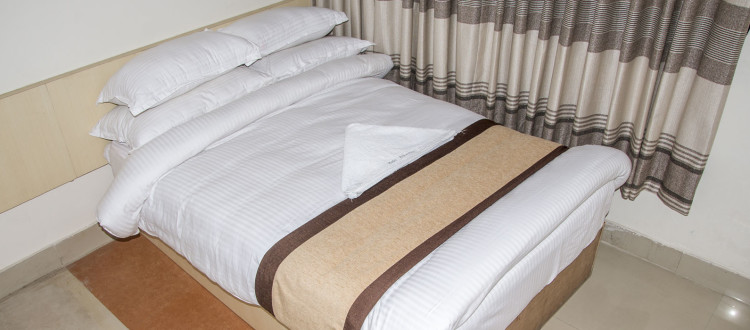 Deluxe Room: Twin & double Bed
Our deluxe room would redefine the word budget accommodation. Extra spacious large rooms with either the view of main street or the city is a fantastic choice of room. It is an ideal room for short as well as long term accommodation with any purpose of the visit. The rooms are soundproof and curtains are thick enough to ensure sound sleep.
Our deluxe rooms are 2 in categories but both with unique features. The first category of deluxe room is big enough to home one twin bed, a spacious closet to store clothes and luggage, a tea table and a hand made bamboo chair. The room has an attached bathroom with sink and Italian bathroom wares. The room also has a 29 inch led TV with cable subscription and over 50 channels. The second category of deluxe room is equally spacious as the first and includes all the mentioned facilities, along with a double bed.
The beds in our first category deluxe rooms are queen size, wooden beds. Likewise both the beds in our double bed deluxe rooms are as well handmade and wooden. The mattresses are extra soft handmade spring mattress and the bed sheets as well as pillow covers are hand made. The floor is wooden and the bathroom is tiled. Every bit of furniture and decoration in the room is handpicked and handmade.
Adding up, our hotel is equipped with heavy duty and environment friendly diesel generator. The generator helps us to light up the standard rooms and television set 24/7. We have UV filtered and processed water running through the entire hotel. The water is bacteria free and hygienic and used for washing and cleaning purpose. Furthermore we offer free room service, have in house restaurant facility and offer 24 hour hot and cold water. Make a reservation for deluxe room today and save 20%!